Lie Down with Dogs by Gail McFarland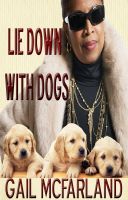 Synopsis: Eloise Jenkins ran away from her Chicago home more than forty years ago, and she ran straight to Atlanta and a chance to have a real life. She was a kid then, but she's a grown woman now – a woman of wealth and responsibility, with a new name and a wonderful life.
Now she is Loi Cramer, widow of the late Alex Cramer, heiress to the Cramer fortune.
Loi's been in Atlanta a long time – long enough to make it her home. She's not only managed to survive many of life's challenges, she has thrived in the life she's built for herself. In the process, she's forgotten a lot of old memories, but then, she's made so many new ones. And she's happy with those memories; right up until the moment her old life, in the person of her sister, turns up on her doorstep.
When sister Ronnie turns up, trying to outrun the mistakes of her own past and intent on securing a piece of the "good life" for her future, life gets difficult.
When Ronnie turns up dead, Loi's life gets…
Complicated.
Review: The author has done it again. Loi Cramer is back and drama just loves to follow her. From blackmailers who end up dead to their own stupidity to the return of her long lost sister, clearly Loi is meant to have an exciting life. This second book is every bit as well written and engaging as the first. Written from Loi's point of view, it's so interesting to read this and feel like it' s just a woman reflecting back on events in her life and gaining a little happiness in the end. For a woman in her sixties, she leads a life more exciting and dramatic than people in their twenties. I'd love to read the third installment in the series.