Just Too Easy by Gail McFarland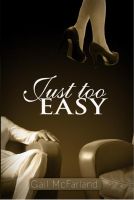 Synopsis: She hasn't heard a word, but good wife, Karalee Marshall believes that every woman wants a sexy man, one who can tease, talk, and tantalize, but he must NEVER play.
Husband Ben Marshall believes that James Brown was right and that this is indeed a man's world. But Ben is a shortsighted and indiscreet man.
Left to her own devices when her husband decides to stray, Karalee elects not to get angry with the Other Woman, but she will even…
And because every closed eye is not sleeping, she will make sure that revenge is memorable when Ben makes things JUST TOO EASY.
Review: I love this author's style of writing. Though I am a man and the protagonist is clearly a woman, she's dealing with something many of us have to at some point, infidelity. Karalee has been down this road before, but well over twenty years into the marriage gives her a different perspective. She wants to get even. She's not just going to sit back and take it, and I can admire and relate to such determination. The style of writing from this author is engaging. I love reading her work and I can always imagine it in the tone of voice of the protagonist. This story just draws me in and thankfully there is a happily ever after in the end.