Doing BIG Things by Gail McFarland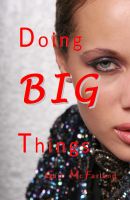 Synopsis: Ever wonder if nonmedicated menopause was a justifiable defense for murder?
Loi Cramer has had an amazing life. She is a woman of a certain age, with an interesting past. She's gone from rags to riches and has the stories to prove it, but nobody is more surprised than she is when fate, a cheating husband, and a false friend conspire to take her back to rags.
And she's not happy about it!
Review: The premise of this book was interesting. Upon reading, I was hooked. I love the narration of the story, told from Loi's first person point of view. The way the story is written, I feel like she's a woman really sitting here tell me about her life. I even like the moving from past to present, as the story is told as Loi reminiscing. The story is wonderfully written with the main character not being a traditional type of woman. She's got some dark spots in her past, though she is not truly a bad person. This story was a joy to read with all its ups and downs and good ol' karma working its way around.